---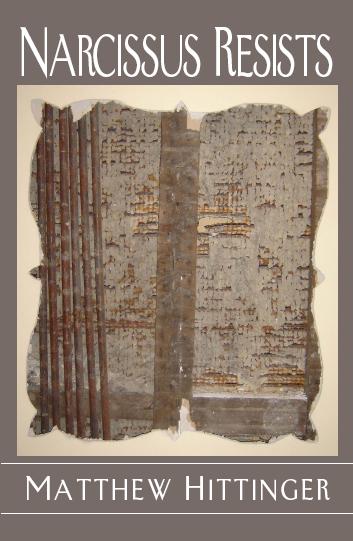 GOSS183/MiPOesias, 2009
Cover Art: Constance Brady
ISBN: 978-1441470-62-1
30 Pages
Out of print.
The sequence is available in Skin Shift or you can read the E-Book version.
---
Reviews & Press
"As a chapbook, Narcissus Resists works. Across nineteen poems, a conceit such as this can get old, but Hittinger keeps his book compelling and engaging. The glimpses of Dali's painting, interspersed with the snapshots of Narcissus' misadventures, provide the momentum necessary. Momentum alone would not be sufficient, but the language is clever and luxurious enough to keep one reading."
— Evan J. Peterson
"Exactly what Matthew Hittinger intends with this multilayered and timeless survey of Narcissus may elude us all. But what does pour out of these pages is poetry of biting satire of our preoccupation with surface beauty or self or delusions of others' perception. And beneath the graceful humor and multiple layers of meaning lies the secure 'verbal resist' of an eloquent poet's mastery of his medium. Hittinger grows in importance with each new publication of his work."
— Grady Harp
---
Book Highlights
February 19, 2009: Narcissus Resists released.
February 19, 2009: The multimedia presentation of Narcissus Resists and the future of online chapbooks mentioned at Incertus.
March 20, 2009: Grady Harp reviews Narcissus Resists.
August 4, 2010: Evan J. Peterson reviews Narcissus Resists for The Rumpus.